Pubblicato da Luca Mercanti il
Recensione choc su TripAdvisor: ecco perché non ci siamo rivolti a polizia e ospedale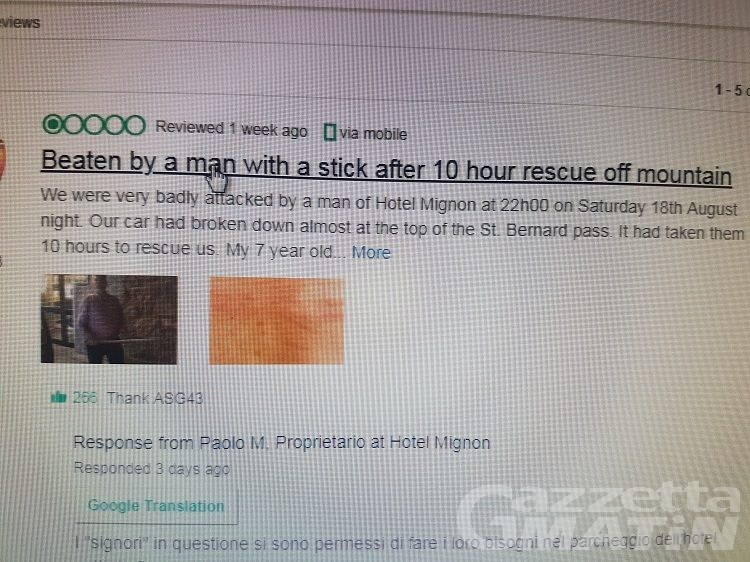 La donna sudafricana che su TripAdvisor ha denunciato la presunta aggressione al marito per mano di un albergatore di Aosta spiega le motivazioni della rinuncia a sporgere denuncia e chiedere assistenza medica
---
Come promesso domenica 26 agosto quando l'abbiamo contattata, la turista sudafricana che ha postato su TripAdvisor la recensione choc della presunta aggressione (bastonata inferta al marito) subita il 18 agosto dal titolare dell'Hotel Mignon di Aosta, Paolo Maccari, al suo rientro a casa insieme alla famiglia dal viaggio in Italia, Audrey Goodrigde racconta la sua versione più approfonditamente la sua versione dei fatti, spiegando perché non è stata sporta denuncia e non sono andati in ospedale per far medicare il marito.
Per chi non lo avesse già fatto, la sintesi della vicenda con la versione della turista e quella dell'albergatore, sono riportati in altro articolo di questo giornale dal titolo "Coppia di turisti accusa su TripAdvisor: maltrattati da un albergatore di Aosta".
La sintesi del racconto della turista
Numerose le persone che su TripAdvisor si sono chieste perché la famiglia non si fosse rivolta alla polizia e andata in ospedale per la (presunta) aggressione subita, negata peraltro da Maccari. Goodrige spiega che "eravamo traumatizzati e disperati. Mio marito ha deciso di non chiamare la polizia perché era convinto che, essendo già sera avanzata, avremmo accumulato ulteriore ritardo e perso la stanza dell'hotel di Saint-Rhémy-en-Bosses nel quale abbiamo trascorso la notte. Volevamo sentirci al sicuro, assieme ai nostri bambini".
Trascorsa la notte a Saint-Rhémy-en-Bosses, "abbiamo riflettuto sull'informare la polizia dell'accaduto. Ci siamo confrontati anche con una coppia italiana incontrata in albergo, e secondo loro ormai era tardi perché sarebbe stato difficile dimostrare il fatto. Eravamo esausti dal giorno e avevamo ancora diverse cose da sbrigare, come la questione dell'auto rotta, di trascorrere ancora una notte in albergo, così abbiamo soprasseduto".
La famiglia sudafricana non si è rivolta alla polizia, ma ha segnalato l'accaduto con delle e-mail "all'ufficio del Turismo di Aosta e un ente turistico nazionale", senza però "ricevere risposta".
In merito alle cure ospedaliere per la presunta aggressione, "non siamo riusciti a trovare un'auto a noleggio per scendere in città per far vedere la schiena a un dottore, nonostante i numerosi tentativi fatti del titolare dell'albergo di Saint-Rhémy-en-Bosses". "Mio marito aveva molto dolore, ma ha messo in secondo piano se stesso pur di trarre d'impaccio la nostra famiglia dalla situazione, con i nostri figli ancora traumatizzati".
Questo il testo integrale del racconto, in inglese, di Audrey Goodridge (la quale non esclude di scrivere una e-mail alla polizia).
«Hello Newsvda.it
this trip was our first holiday in Italy.  My husband, fifteen year old son, seven year old daughter and I were travelling from Garda to the Haute-Savoie. Our car broke down on SS27 just below the Col du Grand St Barnard at 2.30pm.  Our recovery service, IAM Italy, were terrible. They took many hours to organise a tow truck from Aosta to pick us up. We were already feeling very vulnerable as a family when we came down from pass at about 10.30pm.  I cannot describe just how stressful and emotional we were at this time. The tow truck driver (from Soccorso Stradale Albace) was very interested in whether we had a hotel then proceeded to call someone he said was his 'boss'.  I didn't understand what he was saying on the phone as my Italian is not that good. He then drove us directly into Hotel Mignon on the way to Soccorso Stradale Albace garage.  I could not understand at the time why he was so interested in whether we had a hotel and why he seemed so keen to take us to hotel Mignon. We did not call the hotel Mignon ourselves, book or reserve a room.  Until we arrived we had not spoken to the owner, and had no idea where we were going.  We were directed there by the Albace garage driver in the tow truck. When we arrived, we asked the hotel owner if he had a family room.  As I described, we were very emotional, and feeling vulnerable. Our car, packed with our baggage and possessions was on the back of the tow truck and we all wanted to be together in the same room.  The hotel owner said he only had two rooms available, and no family room. My husband had made contact with another hotel on the journey down (he was sitting in the broken car on the back of the tow truck so I was not aware of this).  They said they had a family room available. So we decided we would go there instead, and told the owner of Hotel Mignon that we did not need his rooms at which point his mood changed to anger and aggression.  Then our seven year old daughter told my husband that she needed the toilet desperately.  She had crossed her legs and was holding herself. So my husband asked the hotel owner if my daughter could use a toilet in the hotel.  He replied that he did have a toilet, but it was 'only for clients'. My daughter was about to wet herself (by now the time is 11pm and my daughter is seven years old and exhausted, and has a medical issue with going to the toilet which she is being treated for).  So my husband picked her up with one arm, he was on his cellphone to IAM Italy with the other and tried to get her to a place where she could relieve herself.  He made it to the far side of the car park, and found a space far away from the cars and the hotel, under a tree, in the dark. I have since seen that the hotel owner has claimed that both my husband and daughter relieved themselves against his hotel, near his guests.  This is NOT true he is lying. He could see we were vulnerable; the tow truck was parked outside his front door, and we asked him politely if our daughter could use a toilet in his hotel as public service. He refused us this courtesy. Why? I think either to bully us into staying in the hotel, or to be spiteful to us because we had refused the accommodation.    When he saw my husband helping my daughter relieve herself, he ran inside, grabbed the stick and came outside shouting 'bastardo' and other obscenities.  He then ran over to my husband who was crouched over my daughter and beat him on the back with the stick. He knew what he was doing. We were vulnerable.  We needed help. He could see this.  He bullied us, and beat my husband with a large stick in front of our seven year old daughter.  How can there be any excuse for this behaviour? What would justify beating a foreign tourist with a stick in front of their child?  As a hotel owner, who must have a responsibility to be hospitable his behaviour is inexcusable. I shouted to him, 'what are you doing?' and he threatened me, a woman, with the stick.  We had to flee back into the truck for our protection. My daughter was screaming hysterically; I got her into the truck, which is where I took the photo which I later posted on Tripadvisor.  We had to flee from hotel Mignon while I was on the phone to the insurance IAM Europe, they will probably have a recording of the whole incident as it happened their number is +44 1274 563564I have seen people online questioning us for not going to the police or the hospital, and so I would like to address that.After the incident at hotel Mignon we were driven to the depot where our car was to be stored for repair.  We had to unload it, and then wait for a taxi to take us to the hotel with a family room, which my husband had found while in the car on the back of the tow truck.  The tow truck driver left us on the side of the road with all our belongings outside Soccorso Stradale Albace waiting for the taxi at 11.30pm It was late, and we were very traumatised.  We just wanted to get ourselves and our children into a hotel room to feel safe and secure. My husband made the decision not to phone the police because he was convinced if we became involved, the delay would cause us to lose our room for the night in St-Rhemy en bosses.  It was very late. We were desperate, traumatised and spoke only very limited Italian. We just wanted our children and ourselves to feel safe, together. The next day we thought about phoning the police.  We spoke about it to an Italian couple in the hotel who advised us that if we had not reported it on the day it was too late.  Because we still had much to organise regarding our car, another night in the hotel and our insurance company, and were exhausted from the day before, we chose not to contact the police by phone.  I did send an email to Tourism Aosta and Tourism Italy regarding the incident, and found an email for the police and also contacted them, but as yet no-one has responded to these emails. As for going to the hospital.  On the day after the incident we were in our hotel in St-Rhemy-en-Bosses, which as you know is a long way up the mountain from Aosta.  This hotel owner was very helpful and rang every hire car company in the Aosta area, none of which were open on a Sunday, so we had no transport to get from St-Rhemy en bosses to Aosta to have his back seen by a doctor.   My husband's back was painful, but he was so worried about helping our family that he put himself last. Instead he put his efforts into making sure that we talked the incident through with our emotionally traumatised children, and that we sorted out our arrangements with the insurance who were being very difficult.    I hope this helps you add in some more detail from our view to the brief tripadvisor review I posted to warn people away from this terrible hotel owner». 
Kind regards, Audrey Goodridge
(in foto: la recensione su TripAdvisor (UK) di Aufrey Goddridge)